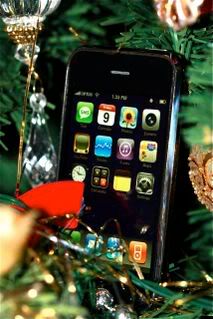 I just want to share to you my new Iphone that Joe gave me for Christmas,, and I'm loving it!!! I know there are some people who are not happy with Iphone but for me I do like it...
Remember that I poste on my blog that this is one of my Wish List for my Birthday or Christmas,,, I didnt get it on my birthday because hubby gave me a Macro lens (which I adore!!!!)) and when he gave this to me I was really surprised !!! 
He must have read my BLOG,,, so the trick is to announce to the whole blogging world what you wish to have,, you never know it may be granted... I thought I would be getting those
talking watches
 but this one is better!!!
What I love about the Iphone is that I can check my web and emails through my phone since I have an Imac and my daughter have an Ibook ,, we have an Airport Extreme which is a wireless connection at home ,, so I dont have to go on the web using my Iphone service provider,,, save me money!!!  I also love the Iphone applications,, games and entertainment that I've downloaded ... I just love APPLE!!!!
Thanks Joe for all the surprises!!!